Yesterday, I had a bit of an epiphany: Facebook is not helping be become a better blogger. In fact, I think that since I began my "Facebook Journey", my blogging has become next to non-existent. I have become...
The Lousy Blogger.
Therefore, I have decided that for the next week or two, I'm not going to post anything on Facebook except links to posts I have written on my blogs. That should help.
Hey, it couldn't hurt!!! How can I post less than nothing???
So, today's "Status" is: HOT.
Doug shared this morning at the Guasave church, and I took this shot. It really doesn't capture all that is summer in Sinaloa, but you can see a glimpse.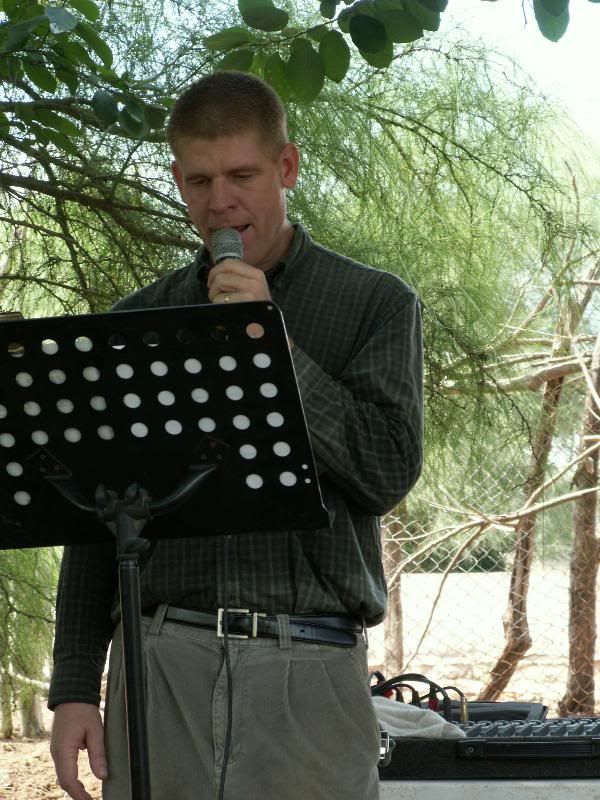 Note the slightly lighter-colored part of his shirt near the waistband of his slacks. That's the dry part.
No, I did NOT throw a water balloon at him during worship and no, we did not do a baptism. It's sweat. Thankfully, his sweat don't stink. Seriously, it doesn't. But it's still...um...sweaty.
Church in Guasave is held in open air, partly because the building hasn't been built yet, but partly because holding service inside a brick building is similar to holding it inside a brick oven. We sometime have cows or goats wander through, and if it rains there's a mad scramble to pack up equipment, but the breeze...ah...
que bonito!