The past two weeks have been...intense.
Understatement.
I can honestly say, though, that during the course of
Master's Bible School
, I only had two mini-meltdowns, one temper tantrum and one crying fit. I think I did very well, all things considered.
To be honest, the event was not more intense than I expected. I even got to bed before midnight most nights, which is different from most youth events we host! Ten days, though, is a long time. My flesh and I had a few disagreements (most of them happened around 4:30 a.m.).
One thousand, eight hundred plates of food.
Praise God that I didn't have to do it all alone.
One night we served re-fried beans with flour tortillas. (A regional favorite and a personal favorite, too.) Joaquin and Luz prepared 8 kilos (about 20 pounds) of flour. That's a lot of tortillas.
Here are Joaquin, Oneida, Brisa and I. We were the outside team cooking on a disc. Luz had another team inside the house cooking on the stovetop.
Me and my tortilla. I'm at the point now in my tortilla-making that they generally turn out round. Luz still says they're too thick, but...que será, será.
On Wednesday (which happened to be another day when the power was out), classes came to an end. The morning dawned gray and overcast with a sharp, cool breeze off the ocean. It reminded me of Oregon.
It rained intermittently all day -- never very hard, but enough to keep the day rather dark and dreary-looking. The mood in the conference center, though, was anything but dreary!
As teams made their final presentations for the Oral Bible class, the rest of the students listened, encouraged, and critiqued (and in some cases, heckled).
The mood stayed pretty light, though, as everyone was excited to be so close to finishing the course.
After the final class, Tito prepared a
fritanga
(fish fry) for all the students.
And then...
...everyone left.
Poof!
And I cried.
Yes, I cried. The house was absolutely silent without even the hum of the refrigerator to keep me company. (Remember, the power was out.) Doug and a couple of kids had run to Boca to return tables and chairs. Other kids were upstairs finishing their Inductive Bible Study final.
Everyone else was...gone.
It was just too quiet.
So I cried.
Then I made a cup of coffee, curled up with Tozer, and I was better.
Andrew came in, then Luis came over, then Doug came home and the noise in the house got back to an acceptable level.
And then, God sent this...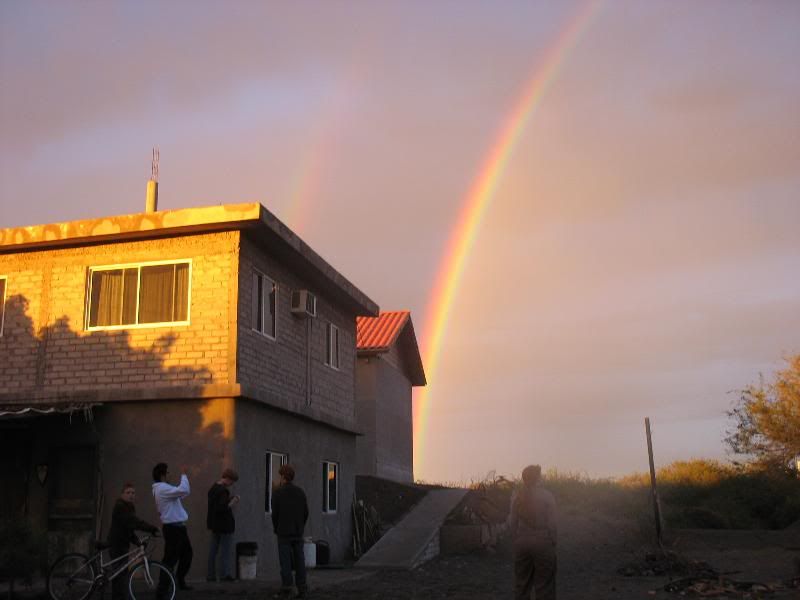 Gen 9:12-16 And God said, "This is the sign of the covenant that I make between me and you and every living creature that is with you, for all future generations: I have set my bow in the cloud, and it shall be a sign of the covenant between me and the earth. When I bring clouds over the earth and the bow is seen in the clouds, I will remember my covenant that is between me and you and every living creature of all flesh. And the waters shall never again become a flood to destroy all flesh. When the bow is in the clouds, I will see it and remember the everlasting covenant between God and every living creature of all flesh that is on the earth."


Thanks for reminding me, God, that You're there in the flood of noise and in the flood of silence, too. Don't ever let me forget that!!!