Well, she's not 15
yet,
but last Friday we celebrated Sarah's
Quince primaveras
(literally, 15 springs). She wanted to celebrate a little early because three of her best friends are leaving for the States in the next couple of weeks and won't be here for her actual birthday.
For those of you who have never attended a Mexican 15th birthday party, let me tell you -- go to one! There is a reason why parents of girls here begin to plan the party when their daughter is 10. They also begin to save up money so they can host the party. Just picture a wedding -- without a groom. We started planning in August and scraped the money out of last two month's grocery allowance (we ate a lot of beans last month!). It was one of those things that starts out as just a "small family thing" and mushrooms everytime you turn around.

This is me trying to find the lightbulb that wouldn't work in the swag. Never did find it, but it didn't seem to bother anyone!
Seriously, God provided in amazing ways for this celebration. The dress was given to her by a friend who got married last year. We removed the sleeves and Sarah did some embellishing with lavender ribbon. One of our neighbors had tons of ribbon and such left over from her daughter's wedding -- which just happened to be just the right color -- and loaned us all her white Christmas lights. I baked for a week before the party making cookies, carrot bread, pineapple upside down cakes, chocolate cakes and -- of course -- Jello, so that there would be enough desserts for everyone. In the States we serve cake with ice cream. In Mexico, we serve cake and Jello. We were only inviting the church and a few friends, but here the whole town turns out for events like this. Sarah decided (with coaxing from her friends) that she had to have a tiered cake. Apparently, it's tradition. As her friend, Karen, said, "The two most important things in a quince anos are the dress and the cake." So, Sarah worked an extra couple of days to buy a cake from a lady in Palos Verdes. Turns out, I was glad she did. It really made the difference at the head table.

Another really neat thing God did to provide for the celebration involved the ladies of the church. I'd been told by a couple of different ladies that you absolutely HAD to serve some sort of supper. But after a lot of prayer and agonizing (on my part, Sarah wasn't stressed about it), I finally had to tell Sarah that there was just no way that we could provide a supper for 200 people. One of my friends suggested a potluck, and I was going to talk to some of the ladies about helping to put together a supper when we got back from our furlough. However, this is a fishing village. And there have been almost no fish this year. No one has any money, and I just couldn't ask them to contribute to something as (to me) frivolous as a birthday party. In the States, if you don't have the money for a huge party, you don't throw a huge party (well, maybe that's not always true, but generally speaking it is). I just figured we'd keep it small and simple and serve lots of desserts. Apparently, the ladies (while nodding in agreement and saying "Yes, certainly a dessert-only party is fine.") were planning a coup. I was shang-haied while walking down the aisle at the end of the service and asked how I'd like to serve the food. "What food?" I asked. "Well," said Pily, "the sisters got together and made a small supper because you really can't have a quince anos without it." Yep. I cried. I still am a little misty about it. Ok, I'm a lot misty about it. It just reminded me of my friends back in Oregon. A lot. Sniff.
Ok, so you've been waiting to see what the
Quincenera
(that's what they call the birthday girl) looked like. Hold on to your hat...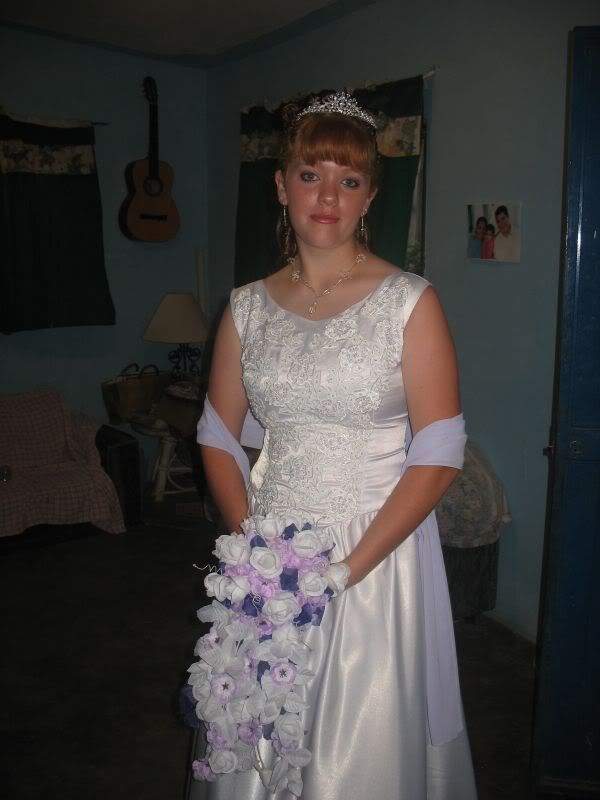 Sigh. My little girl isn't so little any more. Deeper sigh.
I've assigned her a writing assignment/project for the rest of the "semester". She's going to create a blog all about her Quince Anos, so I won't bore you with all the details. I'll just link to her site when she gets it all together. Meanwhile, here are some more pictures of our big night...


This is the beginning of the procession. Evie and Damaris are carry the basket of recuerdos. (Little keepsakes made of seashells.) Yes, Sarah is oficially taller than I now. I managed to stand on a hill in one picture with her -- then we were just about even!


The ceremony was held in the church yard. There were about 100 people there during the actual ceremony -- more showed up afterward for cake and games. All told, I think about 250 people came and went during the evening.
Here are Doug and Sarah standing at the head table. I just had to have a picture of the desserts. I heard from everyone that they were delicious. Honestly, I never got to try them! I'm definitely going to have to re-do the chocolate-peanut butter concoction on the right. It turned out looking lovely -- and all the ladies were oohing and ahhing about the chocolate cake, so my guess is that it tasted as good as it looked! How can you go wrong with peanut butter, chocolate and cream cheese?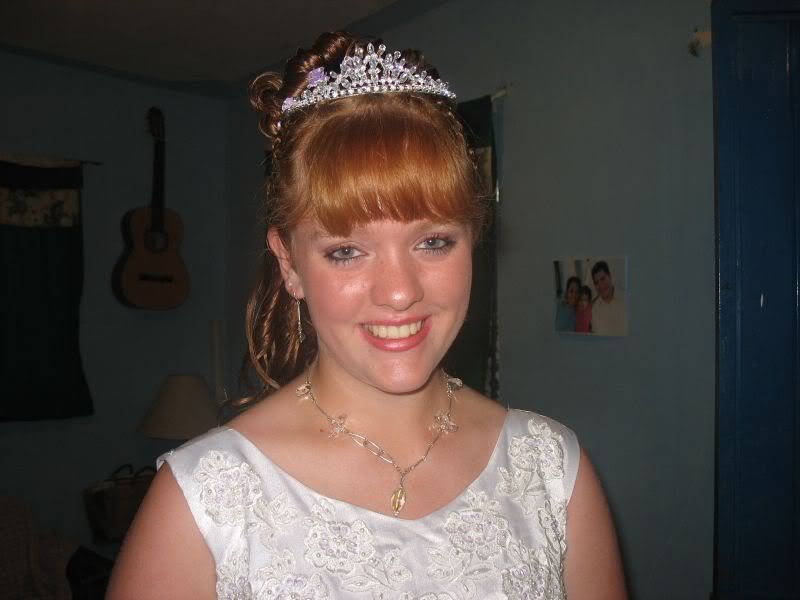 One last photo of my little girl.
I'm so proud of her!