I want to share a picture of my birthday present. Yeah, I know; my birthday was over a month ago. That's OK, though. I'll keep celebrating!
Seriously, I've wanted a brick oven for over a year. When I mentioned it to Esteban, he said that his wife and her mom wanted to make one for me for my birthday, but they didn't know if I would like one or not. I was totally surprised! Esteban said that they had an ulterior motive: they want pizza!
Esteban, Vasilia, Doug and I went out for tacos about two weeks ago and while we were in town, they bought 200 ladrillos for the oven. Then last Tuesday, Lupita and her husband came over to start working on it. I haven't gotten a chance to use it yet -- been a little busy with Sarah's party -- but I'm really excited and looking forward to trying it out!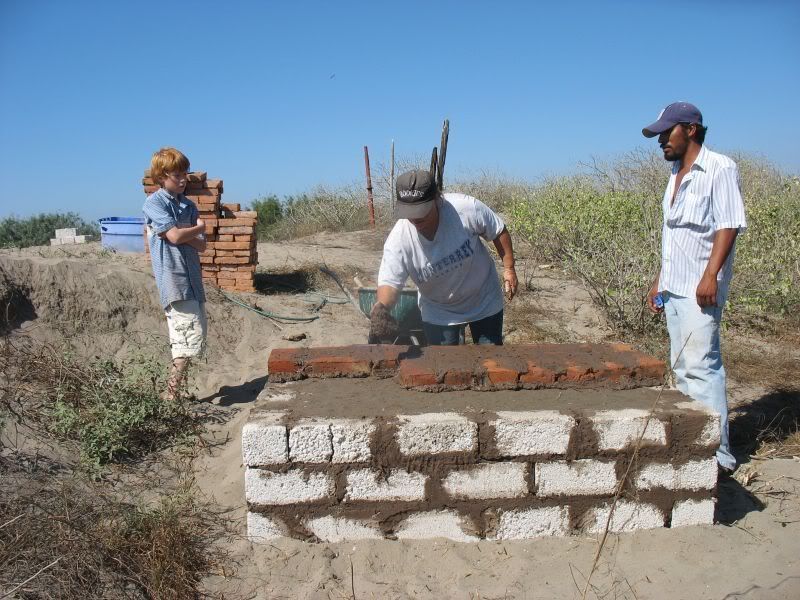 I've been wanting to bake breads and such to sell on the weekends, but my indoor oven is small and gas is expensive. I thought that a brick oven, which is much bigger and uses wood for fuel, would be a good investment. In this oven, I can bake 6 pizzas at once. Too bad we don't have a Papa Murphy's Take-n-Bake nearby!!!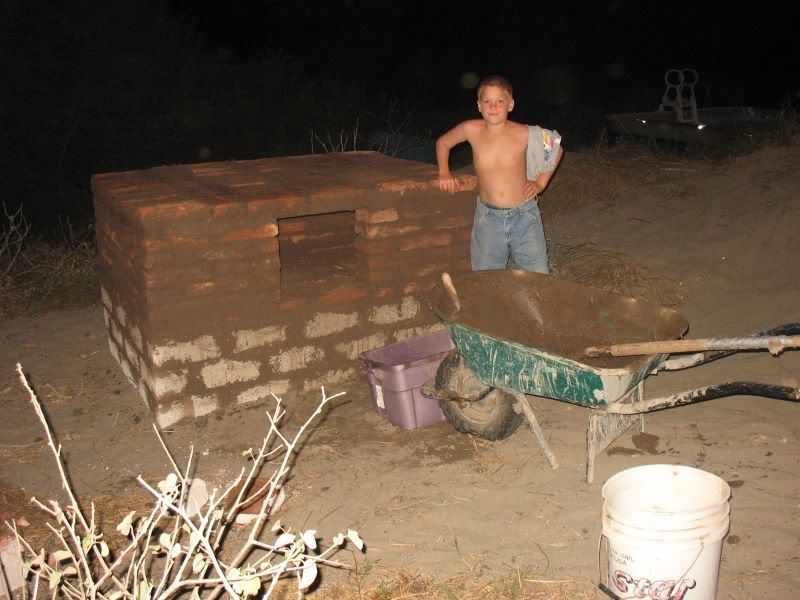 I originally planned to put it in the front yard next to the water spigot. It seemed like a good place at first, but after I sat in my "thinking spot" (a log in the front yard) drinking my coffee and contemplating the future of the world (deep subjects for early morning, I know) I decided that it wasn't such a good place. Our front yard isn't all that big, and I wanted the oven to be good sized and to be able to build a work station and maybe an attached BBQ. It would end up taking up all of my available garden space. Plus, when cars drive by, we get a lot of dust thrown up, and I wouldn't want to be baking bread in a dust cloud AND if the dust blows that way, so would the smoke. I was pretty sure that Doug wouldn't be very happy having smoke pouring in the front windows while the oven heated up. Therefore, we built it in the back yard. I have visions of a large outdoor baking area, BBQ,
palapa (
like a big gazebo with a grass roof) and seating area with picnic tables. Possibly I'll fulfill my dream of owning my own restaurant afterall! Hey, it could happen!