I've never really considered myself a professional cake decorator. I do love to bake, but cakes just never really were my "thing". Of course, I made all the kids' b-day cakes, but they were never what I would consider works of art; just a cake. Tasty and sometimes a bit ugly, but made with much love. However, when the ladies of the village discovered that I knew how to bake, I quickly became the "Cake Lady".
Here's a quick culture lesson: in most parts of the world, the standard kitchen does NOT include an oven.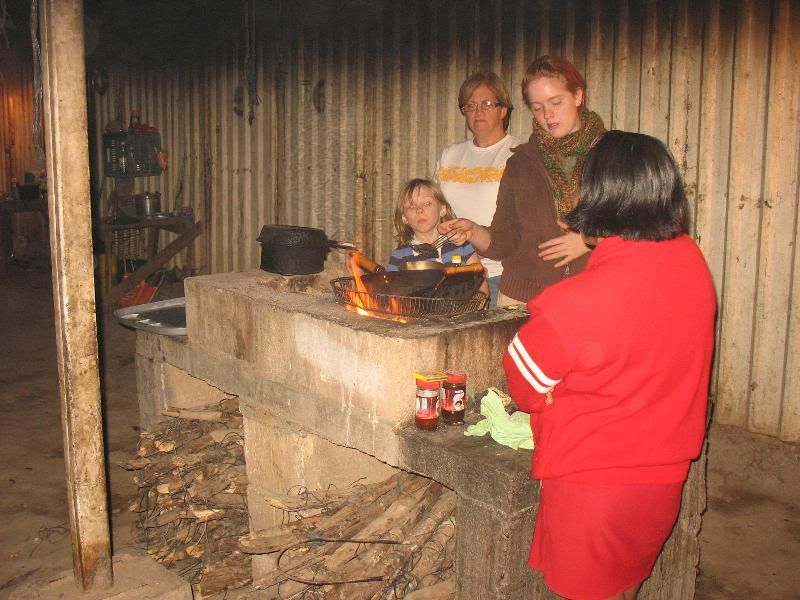 This picture, taken at a local migrant camp, is actually pretty representative of the kitchens of our village, too. Notice the BBQ grill – it's an old fan. Recycling at it's finest, eh?!
So, most ladies don't have ovens, but the culture demands that if you have a party you need to have a cake. What do you do? You go find the village cake lady and order a cake.
This is the cake I bought for Sarah's XV birthday. It cost $30 – including the borrowing of the decorative base. I didn't have the pans – or the time – necessary to bake a cake of this size. I thought I got a good deal. But, I had to drive to Palos Verdes (about 5 miles away) to pick it up. Since then, I've been collecting pans, decorator tools, food colors and all the other "extras" that a good cake decorator needs so that I can make cakes. It's been a good ministry and at times it's been a good source of income.
A couple of weeks ago, one of the young moms from our parenting class asked me if I'd be willing to teach her how to bake cakes. She wants to open a pasteleria in Boca del Rio. I told her I thought that was a wonderful idea! She came over last week and baked her first cake…
Her husband was impressed and everyone in the household said it was delicious. We had fun working together and agreed that we should make it a weekly thing. I dunno – it might be dangerous to bake so much. What if the cake flops? Then we'll have to eat it!
I'm looking forward to spending more time with Sobeyda. She's a sweetheart, and I think she'll do well as Boca's Cake Lady! Pray that she sticks with it, too!!!
By the way, does anyone know a recipe for a frosting that can handle extreme heat and humidity? I've tried several recipes, but haven't found the right thing yet. The frosting they use here is a vegetable-based whipped cream type of thing. It's thicker than Cool-whip, but has a similar taste. I'd settle for a way to make that topping from scratch, so I wouldn't have to pay $2 per liter for it. I know that there has to be a cheaper way. Meanwhile, I'll continue to search and experiment! Love those experiments!!!