Determining to post at least once before I get home and find myself, once again, months behind, I hereby post a few pics of our last two weeks of travel.
We've passed through Arizona and Southern California and today we leave Grandma and Grandpa's house to head to Oregon.
Squeal!!!!
I'm a little excited about seeing my daughter again! I just think six months is a long time.
The other day, I was considering how many hours a year we spend in the car. So far in 2011, we have spent -- on furloughs only -- 160 hours traveling. That doesn't count the 20 or more hours a week we spend in the car as we travel around Mexico. That also doesn't include the other 45+ hours we still have ahead of us this trip.
Needless to say, as a family we have discovered many ways to pass the time while driving. I wanted to share these shots of Jessee. This is his new travel-pasttime: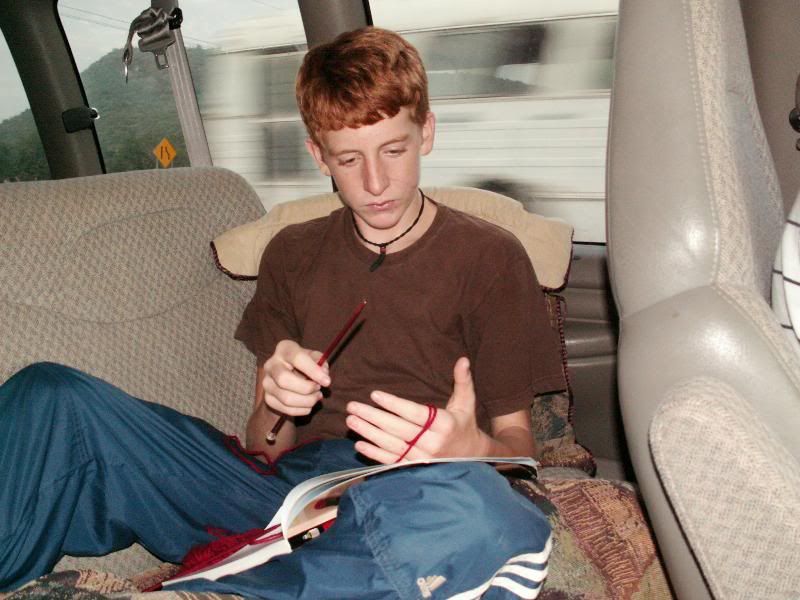 He was really focused on the casting on. I'm looking forward to seeing his finished product. What really caught my attention, though, was the title of the book he's using to learn the manly art of knitting.
Can you read the title? It's a bit dark.
The book title: "
Knitting with Balls
".
I would say that the title is a bit, um, brash, but I thought it very funny. And hey, if it helps my guys pass a few hours in relative peace, I'll accept a bit of off-color humor!!!