First of all, I want to go on the record as saying that I really don't care for flan. At all. It's kind of like watermelon for me. I'll eat it when it's put in front of me and I've been known to say, "Oh, this is a really good watermelon!" Left unsaid, however, is the rest of the sentence, "For a watermelon." That's how I am with flan.
Normally.
So, when my friend Melita said that she wanted to learn how to make a Chocoflan, I agreed to search out a recipe. But I wasn't all that excited.
Until I found this recipe at
Kraftrecipes.com
. You can click over and see why I was intrigued. I'll wait here.
Anyway, I printed out this recipe and began the translation into Mexican. I say "Mexican", since it's more than the words that need to change in most cases. Of course the measurements would need to change to metric, but although
cajeta
is easy enough to get here, Cool Whip?
No lo hay!
The more I looked over this recipe, the more I just HAD to try it. So last week, for my friend Basilia's birthday, I tried this amazing-looking Chocoflan. (And I made a lemon cake, too, just in case the chocoflan flopped! lol)
I would say that it was a total and complete success! To be honest, I was a bit concerned when I opened the oven door after the first hour. It looked pretty strange and it didn't look like it had done what it was supposed to do, but upon closer inspection -- it was perfect. Sigh.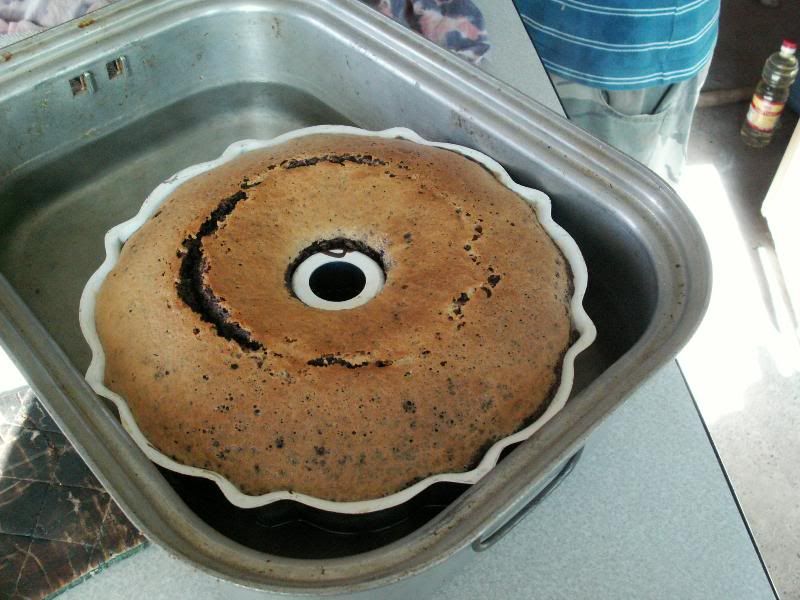 And tasty. I repent: I do like flan -- as long as it's made more like a cheesecake and has plenty of chocolate! Who wouldn't like this???
You can get this recipe over at the Kraft link above. I found it a bit convoluted trying to follow the recipe, though, so here's how I would write it:
What you'll need:

1 can
cajeta
(make your own by boiling a can of sweetened condensed milk for about 30 minutes -- in the can. Just take off the label, put the can in a pan of water and bring it to a boil. Weird, but it works.) You could also use any thick caramel sauce; you won't need very much.
1 can evaporated milk
1 8oz. pkg. cream cheese, softened
7 large eggs
1 tsp. vanilla
3/4 c sugar (the recipe calls for 1 cup -- I put in 3/4 and it was plenty sweet)
1 chocolate cake mix
1 c water
1/3 c cooking oil
(I omitted the sour cream and the Cool Whip as unnecessary. You could garnish with whipped cream, but it really didn't need it!)
For baking you'll need:
a 12 cup mold/Bundt pan and a large "turkey roaster" or other pan large enough to hold the cake pan.
Preheat oven to 375 degrees.
Well-grease a 12 cup mold (I used a Bundt pan).
Pour up to 1/2 cup of caramel sauce into bottom of pan. (I barely used 1/4 cup and that was really plenty.)
In a blender, combine:
1 can evap. milk
1 pkg. cream cheese
4 eggs
vanilla
3/4 cup sugar
Set aside.
In mixer bowl, beat together:
Chocolate cake mix
1 cup water
1/3 cup oil
3 eggs
Pour chocolate cake batter gently and evenly into the cake mold.
Slowly ladle the milk and egg mixture over the top of the cake batter. (This was the crazy part. I thought that the recipe was mixed up, but it really does work!)
Gently set the cake mold into the turkey roaster, and fill the roaster with water enough to cover the bottom 1/2 of the cake mold.
Cover cake mold with aluminum foil (I missed this step, and the cake ended up a bit browned on the top -- didn't affect the taste at all, though!)
Place the roaster pan in the hot oven and bake for 90 minutes. (Until a toothpick inserted near the center comes out clean.)
Remove from oven and cool IN THE CAKE MOLD sitting on a wire rack until mold is only warm to the touch. Then REFRIGERATE until completely chilled!

If you try to unmold this cake while warm, you'll be eating it with a spoon.

After cake is completely chilled,

loosen edges gently with a plastic spatula, invert a plate (preferably the plate you'll be serving it on) over the top of the cake mold, and then flip the cake carefully over onto the serving platter.
Provecho!!!