Internet around here has been "hit-and-miss" over the past few weeks, so I thought I should take this opportunity to put in my "Party-post" while I actually have internet up and running. Ya just never know what tomorrow may bring!
So, I've hemmed and hawed about what to write in this post. You're supposed to "showcase your style". Problem is, I have no style. My darling husband and I have been married a little more than 16 years, and we have six children between the ages of 15 and 9. We've been missionaries in Mexico for a little more than two years and have home-schooled forever.
All of my married life, I've decorated our house with children's art projects and home-school projects and maps and the wonderful creations that the kids've given me for various birthdays, mother's days and Christmases. My house has always looked a lot like a pre-school playroom...or maybe a laundrywoman's nightmare. I can appreciate one of my best friend's love of camels and all things Egyptian and how she manages to make her living room look like a showplace -- even with Lego boxes discreetly tucked under the setee. All the colors flow together and the whole room just begs you to curl up and enjoy a cup of coffee and a good book. I
love
her living room.
She
has style.
My style is more of the "cover-up-as-much-of-the-ugly-concrete-wall-as-possible-and-try-to-keep-the-walkway-cleared" stlye. The theme of my living room is "101 Uses for a Rubbermaid Tub". Tacky, but serviceable. Our furniture is definitely not the "inviting, cuddly" kind. We have a 15 passenger van and have pulled out one of the seats to make room for transporting "stuff" (like ice chests, bikes and the odd extra 10 people if needed). For lack of a better place to store it, the bench seat has become our "love seat". I do NOT love that seat. Also tacky and more than a little uncomfortable, however it, too, is serviceable. I suppose I do have some sense of style...at least enough to know that my house will never make it to "This Old House" or any other "reality" show for that matter. Well, maybe Fear Factor.
As far as "internet style" goes, I'm pretty "Plain Jane". When you're working with dial-up, and slow dial-up at that, you can pretty much forget about putting streaming video or audio on your site. I tried to upload a 30 second video clip of a hurricane that hit here last year. After 4 hours, it was a little more that 30% done. I decided to wait till I could connect via wireless to upload it. (
If you're interested, you can check it out
here
. Nothing fancy. Just our crazy friend Esteban who decided to stand on a roof in the middle of a hurricane to video the beach being washed away
.) So my blog is pretty basic: no videos, no music, no banner ads, no moving graphics. Just me and lots of pictures of my family, our friends, our ministry and our home. And lots of words.
I must say here, since it sounds like I'm complaining, that God has been gracious to our family this past year! I just smile and shake my head at how much my faith has grown. One year ago this month, we were so thrilled that we were getting our indoor plumbing hooked up. How could I possibly complain that the walls aren't finished? A year ago, all the window and door holes were covered with blankets to keep out the cold air. Well, we don't have all the windows in yet, but at least the holes are boarded up! It's an improvement. As it is, our home is in about the same state of "incomplete" as most in our village. It's all part of "living at the level of the people". We are just like the majority of the
plebes
(pronounced: PLEH-behs not "pleebs" even though it looks like "pleebs") : working on our house...
poco a poco
. Maybe it's different from what we were accustomed to in the States, but maybe not so much. We've lived in a state of "house remodeling" for over 10 years. I don't really know if I could even survive in a "finished" home! I'd be too worried about something getting broken or scuffed!
So here it is, for what it's worth: my "Showcase of Style-lessness". I hope that some of you will have read it to the end and that you might check back from time to time to see what we're up to. I'm looking forward to hearing from you, so leave me a note, and I'll come visit your blog, too!
Until then, bendiciones!!!
This is a photo of our property in June of 2006 when a team of missionaries (3 great guys who, once upon a time, were kids in our youth group in Oregon) came to help us pour a foundation. Foundations were definitely laid! One of these young men is now a missionary in Asia.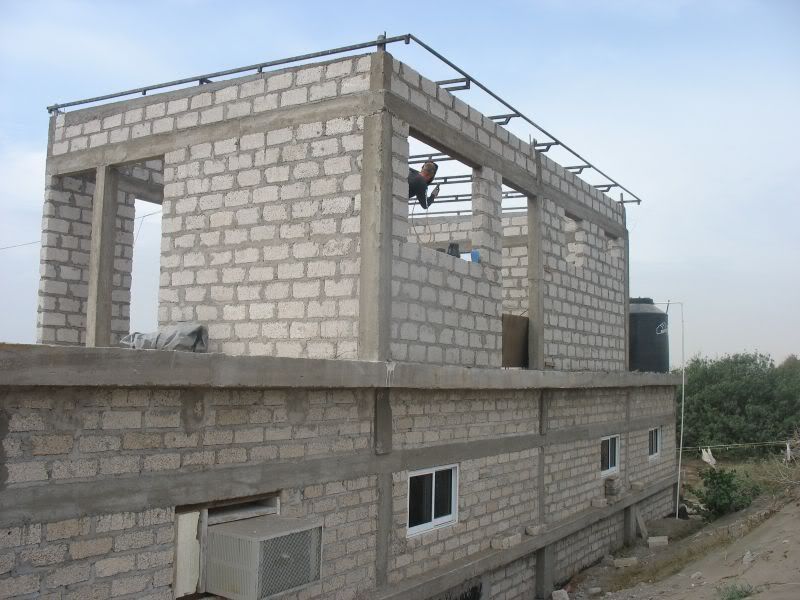 Here's our home in October of 2007. (This is the back of the house.) You can see Honey welding the roof supports. One of the kids' favorite pasttimes is jumping off the back of the house onto the sand dune behind the house. Everyone's done it but me. And I'm not planning to. Sorry. I'm old and I don't heal quickly. I'll live vicariously through my kids on this one!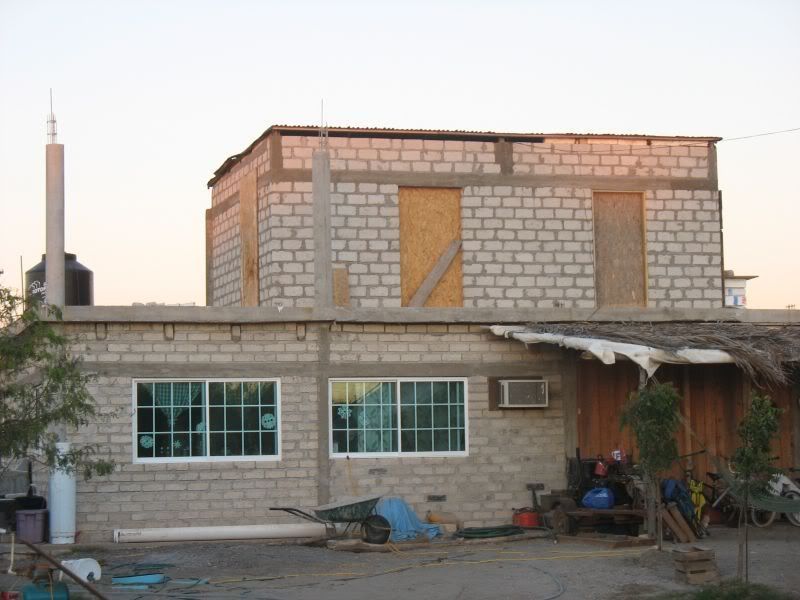 And finally, here is the house as it is now. Our home!!!